Gutter Cleaning & Repairs
Clogged gutters can cause thousands of dollars in damage to your home's foundation, roof, exterior trim, crawlspace, basements, and more. It can also cause erosion of your yard and damage to your landscaping. That's why Referred Roof Cleaning & Exteriors does gutter cleaning in Salem OR. We recommend cleaning gutters and the surrounding area at least twice a year. The optimal time to have your gutters checked is during periods of heavy wind and rainfall, as this is the time when your gutters have the most use.
By residing in the Pacific Northwest, there is no denying the importance of properly functioning gutters systems for your property. Proper water management is crucial to prevent any potential water damage to your buildings. We will systematically clean all gutters and downspouts to ensure complete protection during the heaviest winter rainstorms. Prices determined by the linear foot and overall difficulty of the job.
With each gutter cleaning we also check and clear downspouts. Clogs that are located underground typically require a rotor-rooter service to clear, although we will clear if possible.
Repair Gutters and Downspouts
We guarantee our courteous experts will have your spouts running clear. Our professional team clears clogs, repairs leaks and reattaches gutters and downspouts where necessary.
Prevent Water Damage and Dry Rot
Keeping gutters clean and clear of debris helps avoid water damage to your home and can prevent the high costs of gutter replacement.
We're a full-service gutter cleaning service
At Referred Roof Cleaning & Exteriors  we live by a high standard of service and customer care. All our pricing is upfront, and we stand by our estimates. We communicate with you throughout the process to make sure we understand your needs and that you understand our work plan. Feel free to ask us any questions along the way and we'll be happy to answer. So don't put off cleaning your gutter any longer; give us a call or contact us today and safeguard your roof and the foundation of your home.
Gutter Maintenance
In addition to cleaning your gutters, we also inspect the flow of water and the effectiveness of your gutters throughout the whole system. We look for cracks and areas where the gutters are coming away from the building's exterior. Our inspection includes watching the water run through the gutter system to ensure it exits smoothly and uninhibited. We are also able to make suggestions on roof cleaning if we see mold and debris building up there.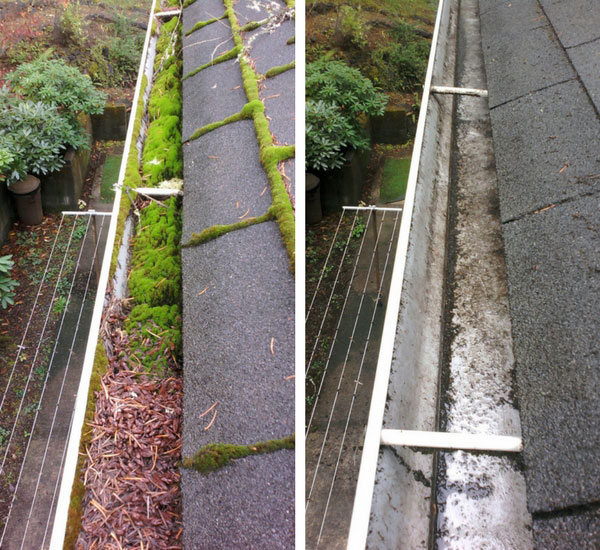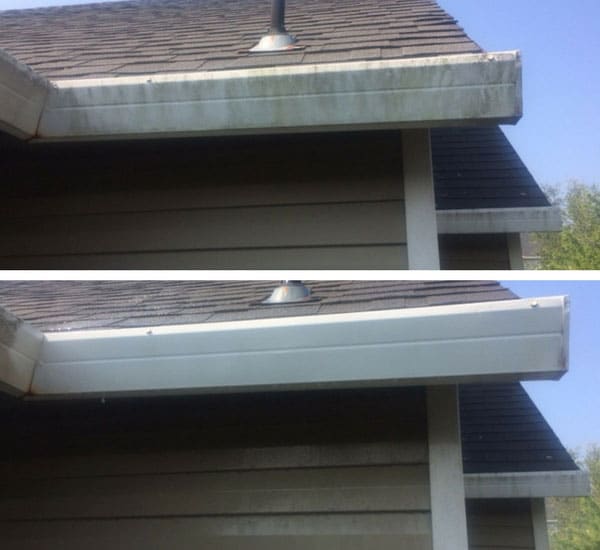 HERE'S WHAT OUR RECENT CUSTOMERS HAVE TO SAY ABOUT US
---
Review by John S. on August, 9th, 2017
We thank Jaffet and his partner for an excellent job and the reasonable price. We recommend them to anybody, who needs their services, because we're going to keep doing business with them for years to come!!!
Review by Kim Webster on August, 9th, 2017
Jaffet is very professional. He went around the house and we decided what should be done. He has a lot of experience preparing a house to go on the market and was able to give me ideas of what should be done to increase "curb appeal" When I saw the work they had done I was amazed. Couldn't believe how great everything looked. They told me they'd come back and work on anything that they had missed. They hadn't. The work was excellent and at very reasonable price. I highly recommend them.
Review by Ruthy Kanagy on August, 7th, 2017
James came on time and did a great job cleaning the roof and gutters and installing "gutter stuffers." Also repaired some flashing. Good communication, very professional. Expectations were met!
Review by Kelle Bucolo on August, 3rd, 2017
Direct communication with the owner was very reassuring! Prompt replies and they showed up! Roof looks great, and the price was very reasonable.
Review by Stan & Kristi M. on July 30th, 2017
Jaffet was professional, organized, personable and reliable. He (and James) power washed our concrete tile roof and installed new gutter protection. The roof looks GREAT!!! The price was reasonable. We plan to have him provide roof maintenance as long as we own the home.
Review by Nadine S. on July 1st, 2017
This by far is the BEST roofing company we have had in the last 12 years. Jaffet and James are professional roofers who show up on time, know exactly what they are doing, trustworthy, explain everything in detail, PRICE was perfect, and our roof looks the best it has ever been.
Review by Linda S. on June 20th, 2017
Professional, thorough, reasonably priced. Highly recommend.
Review by Tom I. on June 19th, 2017
Our roof, almost 20 years old, has never been cleaner. Jaffet carefully cleaned each shingle as if it were fine china. He sequenced each task wisely and in the right order. And he thoroughly tidied up after he was done.
We trusted him completely.
Review by William B. on June 9th, 2017
Referred Roof Cleaning did an excellent job on my roof, gutters, sidewalks, and skylights. Plus, they did a good job of cleaning up afterwards. I will definitely use them again next year