We offer a wide array of roof maintenance services in Salem and  surrounding areas. When we inspect your roof, we will only recommend repairs and services that we are certain will benefit you. We never try to upsell unnecessarily.
Our trained experts clean roofs efficiently using top-of-the-line equipment and safely using state-of-the-art fall protection. Our professional and courteous teams are careful of landscaping and protect the integrity of your roof.
Composite Roof Cleaning
We offer specialized roofing services, such as composition roof cleaning and roof repair, to help the residents of Salem enjoy the benefits of a well-maintained, dry, sturdy and reliable composition roof for a lifetime.
Tile Roof Cleaning
If you too have a tile roof adding to the beauty and efficiency of your building, you can have the expert tile roof repair and tile roof cleaning services offered by
Referred Roof Cleaning.
These include:
• Tile roof inspection
• Tile roof maintenance
• Tile roof cleaning
• Tile roof repair & replacement
Cedar Roof Cleaning
Over time your cedar shingles lose their luster and will require some maintenance. We help preserve your roof with a thorough cleaning and protective sealant application. For long-term strength and durability, our restoration program is an affordable solution to maintain a healthy roof. We can use the same process to clean decks, fences, and even cedar siding.
Metal Roof Cleaning
Metal roofs are generally the most durable out of all roof types and require far less frequent cleanings, however they still need a good cleaning every 5-7 years to prevent significant algae build up and rusting. Our standard metal roof cleaning method is pressure washing, although we also offer to simply remove roof debris and clean gutters on a yearly basis if the customer desires.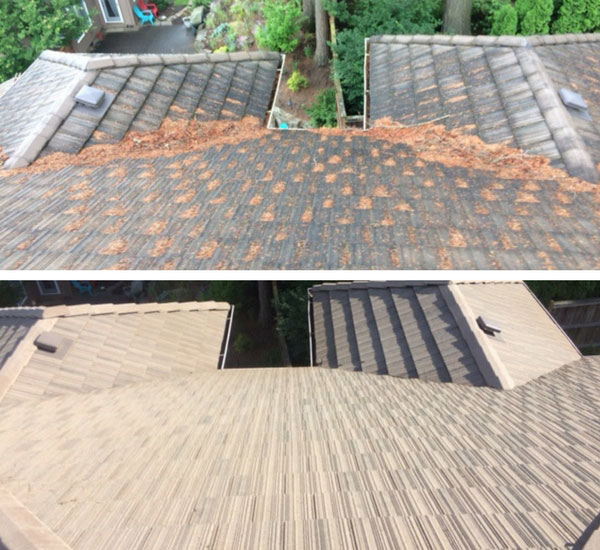 Roof Moss and Gutter Treatment
We begin by agitating any large clumps of moss with a stiff brush. Then we blow all the loose debris off the roof with a commercial grade backpack blower. We clear all the debris from the inside of the gutters and check that all the downspouts are clear. We then apply granular zinc sulfate to the roof to kill any remaining moss. Zinc sulfate is cost effective and kills all moss within one month. It is EPA approved and won't harm your plants or siding. Rain and wind naturally wash away remaining dead moss. Note: We use a liquid moss treatment for cleaning roofs that are particularly steep or difficult to access.
HERE'S WHAT OUR RECENT CUSTOMERS HAVE TO SAY ABOUT US
---