Scheduled Cleaning & Maintenance
Roof Maintenance Overview
Referred Roof Cleaning is not only interested in cleaning your roof, we are also interested in maintaining it. Our maintenance program is designed to give you the peace of mind that your entire roofing system and gutters will stay in excellent condition extending the life expectancy.
By being a routine client, you can be assured that leaks will be caught before they occur, your gutter draining system will not clog and your roof will not have moss growth return. Our maintenance program does not have a contract, we simply check in with you every 6, 12, 18, or 24 months depending on your wants/needs. We do not have contracts because we trust you will continue to use our services if you are truly satisfied with our work. Here is a list of everything that is included in your roof maintenance program:
A general roof inspection will be conducted to insure any potential leak issues are caught and properly addressed. Here are some of the things we check for:
a. Cracked or worn rubber boots around vent pipes
b. Cracked caulking or loose nails on flashing & vent caps
c. Shingle Deterioration e.g: buckling, curling, blistering, or bare areas missing significant amount of granules.
d. Broken or missing tiles
e. Skylight sealant and flashing
Roof debris will be cleared off (twigs, leaves, pine needles, etc…)
Roof will be treated thoroughly with a moss inhibitor approved by the Department of Agriculture.
Skylights, solar panels and sun tubes will be cleaned
Gutter Cleaning
Loose gutter nails will be nailed back in and gutter sealant is re-applied where needed.
Downspout Clearing
Downspouts when plugged underground may need a roto-rooter, however, we will clear if possible. Crack caulking removed and replaced where needed.
Missing fastener nails replaced and caulked over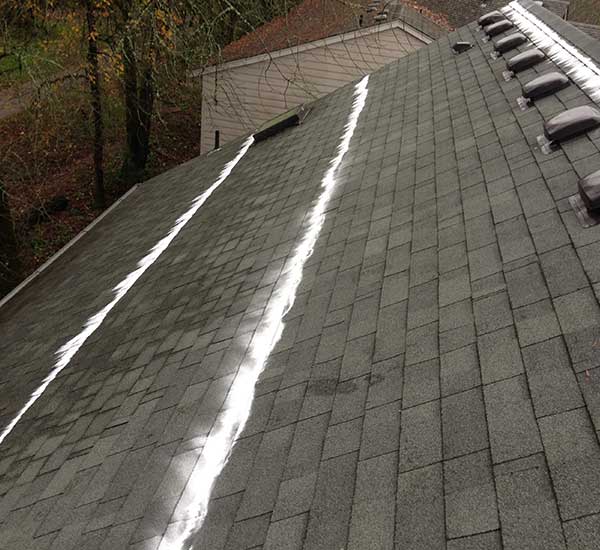 HERE'S WHAT OUR RECENT CUSTOMERS HAVE TO SAY ABOUT US
---
Review by John S. on August, 9th, 2017
We thank Jaffet and his partner for an excellent job and the reasonable price. We recommend them to anybody, who needs their services, because we're going to keep doing business with them for years to come!!!
Review by Kim Webster on August, 9th, 2017
Jaffet is very professional. He went around the house and we decided what should be done. He has a lot of experience preparing a house to go on the market and was able to give me ideas of what should be done to increase "curb appeal" When I saw the work they had done I was amazed. Couldn't believe how great everything looked. They told me they'd come back and work on anything that they had missed. They hadn't. The work was excellent and at very reasonable price. I highly recommend them.
Review by Ruthy Kanagy on August, 7th, 2017
James came on time and did a great job cleaning the roof and gutters and installing "gutter stuffers." Also repaired some flashing. Good communication, very professional. Expectations were met!
Review by Kelle Bucolo on August, 3rd, 2017
Direct communication with the owner was very reassuring! Prompt replies and they showed up! Roof looks great, and the price was very reasonable.
Review by Stan & Kristi M. on July 30th, 2017
Jaffet was professional, organized, personable and reliable. He (and James) power washed our concrete tile roof and installed new gutter protection. The roof looks GREAT!!! The price was reasonable. We plan to have him provide roof maintenance as long as we own the home.
Review by Nadine S. on July 1st, 2017
This by far is the BEST roofing company we have had in the last 12 years. Jaffet and James are professional roofers who show up on time, know exactly what they are doing, trustworthy, explain everything in detail, PRICE was perfect, and our roof looks the best it has ever been.
Review by Linda S. on June 20th, 2017
Professional, thorough, reasonably priced. Highly recommend.
Review by Tom I. on June 19th, 2017
Our roof, almost 20 years old, has never been cleaner. Jaffet carefully cleaned each shingle as if it were fine china. He sequenced each task wisely and in the right order. And he thoroughly tidied up after he was done.
We trusted him completely.
Review by William B. on June 9th, 2017
Referred Roof Cleaning did an excellent job on my roof, gutters, sidewalks, and skylights. Plus, they did a good job of cleaning up afterwards. I will definitely use them again next year